Getting to Harrison Hot Springs BC
Nestled in the heart of the Fraser Valley, Harrison Hot Springs, BC is a 90-minute drive East of Vancouver. From the US side, it's under 3 hours, just north of Seattle.
If you want to know more about Harrison Hot Springs, or if you have any questions about planning your trip, please contact Tourism Harrison.
To get there by Car:
From Vancouver- Trip Length: Approx. 90 minutes – Follow the Trans-Canada Highway (Highway 1) East. Once you pass Chilliwack, take the 135 Exit. After that, signs will guide you towards Harrison Hot Springs. If you want a real treat, there's a gorgeous scenic route along Highway 7. It follows the north side of the Fraser River and goes past Mission. Once you travel through Mission, follow the road signs towards Harrison Hot Springs.
From Vancouver International Airport – Trip Length: Approx. 2 hours: Follow Highway 99 South to Highway 10. You will go through Langley. Just follow the signs to Highway 1 East (towards Hope). Remain on Highway 1 until you see exit 135. Then, follow the signs indicating Harrison Hot Springs.
From Kelowna – Trip Length: Approx. 3 hours: Follow Highway 97C to Merritt. Once you reach Merritt, head south on the Coquihalla. Take Highway 5 to Hope. Once in Hope, follow Highway 1 to Exit 135. The signs for Harrison Hot Springs will guide you from there.
From Seattle – Trip Length: Approx. 3 hours: Take Interstate 5 (I-5) North, towards Bellingham. Then take Exit 256A and turn on to Highway 539 North (or Guide Meridian), to Lynden. You will then take a right and turn East. Follow the signs for Sumas and the Canadian border crossing. Once you cross the border, you will follow Highway 1 East. Take the highway past Chilliwack and turn on to Exit 135. Then, follow the signs for Harrison Hot Springs.
Note: Remember to bring your updated Passport or enhanced drivers licence (EDL) if you're crossing the border.
More detailed driving maps and directions from Vancouver or Seattle can be found on our regional maps page.
To Get There By Bus:
Most communities are serviced by public transportation that can take you to Harrison Hot Springs, You can easily find either a Greyhound bus or the Fraser Valley Regional Express 66 FVX .
The new Fraser Valley Regional Express 66 FVX travels from the Carvolth Exchange, in Langley, to downtown Chilliwack. There, you can transfer to the Agassiz Harrison Connector Route 11.
If your choice is Greyhound, there is a route offered from Vancouver to Chilliwack. Buses are frequent and the ride is not too long, between 1-2 hours. To view their bus schedule, visit their website at www.greyhound.ca.
When you arrive at the Chilliwack Greyhound Station (Intercity Bus Depot) on Luckakuck Way, there will be a short walk to Vedder Road (Approx. 5 min). There, you can board a city bus, the #1. The bus stop is located near the Shell Gas Station and across from Cottonwood Mall. Since Vedder Rd is a major route, buses will stop every 20 mins as they head downtown towards the bus exchange. Click here for a detailed city bus schedule.
Once you reach the downtown bus exchange, you will have to transfer buses. Change for the Agassiz/Harrison bus and continue on to Harrison Hot Springs. For a full bus schedule or more detailed maps of the area, visit Chilliwack Transit or call 604-795-3838.
Taxis are also an option. There are companies that service both Harrison Hot Springs and the Chilliwack area. Because summertime is busy, it's wise to book ahead. For Chilliwack Taxi, call: 1-877-795-9111 or contact Cheam Taxi at: 1-866-824-2800
To Get There By Boat:
Via the Fraser, Harrison Hot Springs is accessible by boat. Follow the Fraser from Vancouver and then continue on to the Harrison Rivers. This is one of the most picturesque travel routes and a unique way to see the Fraser Valley. Prior to arrival, contact local marinas for navigation information and moorage rates.
To Get There By Plane:
Another way to reach Harrison Hot Springs is by plane. There are airports located in both Abbotsford and Vancouver. Or you can fly direct to Harrison via float plane. In fact, it's quite a sight! Float planes dock on the lake in front of the The Harrison Beach Hotel. The hotel also provides float plane moorage. For information on flights, Visit www.ourairports.com.
Site Map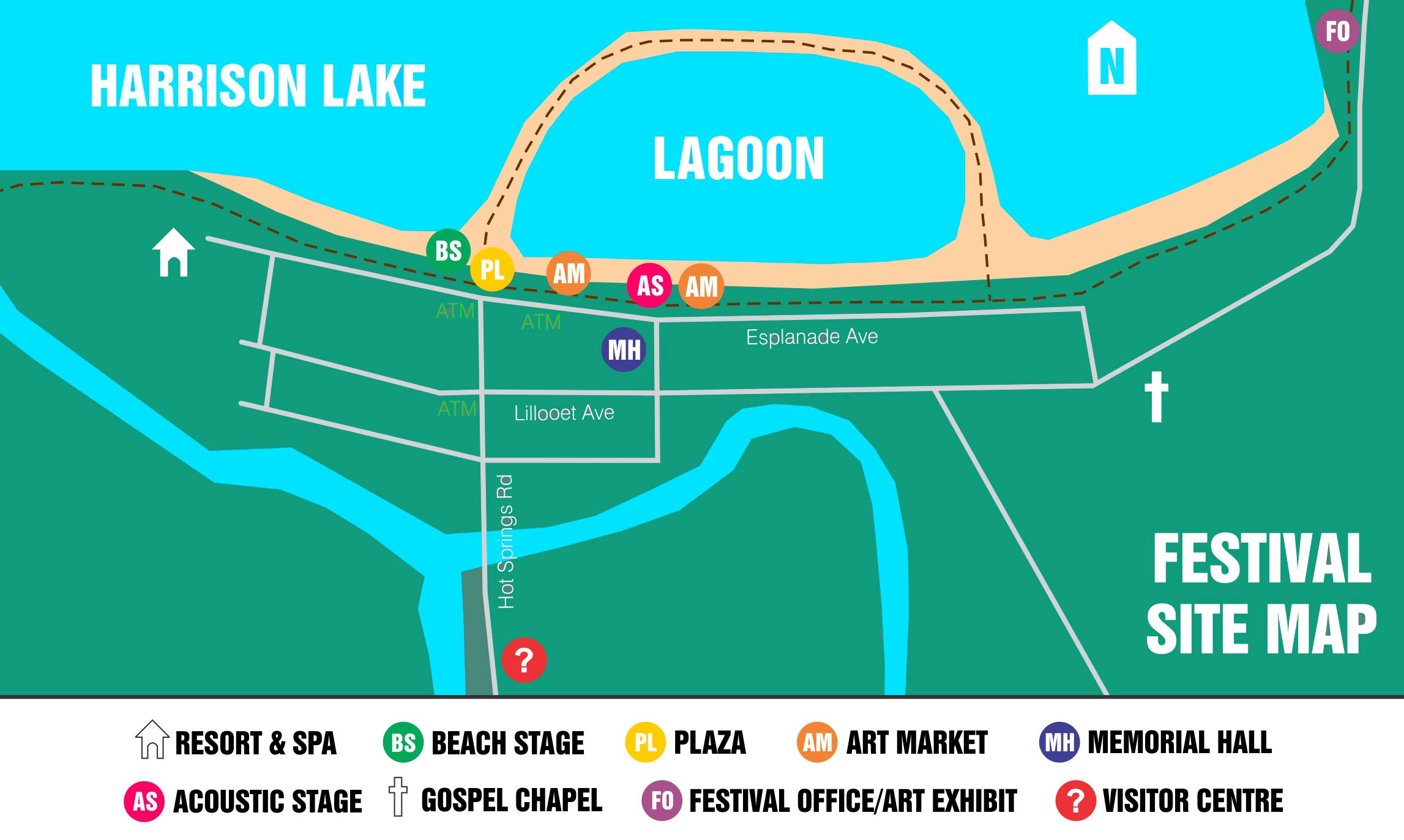 Places to Stay:
Hotel/Motel
You Have a Space. Now Plan Your Day! Read up on Festival Artists. Then, Book your Tickets!