A Whole Season of Stunning Shows
The Hall may not be fancy, but it's a funky intimate venue with great acoustics. There, you'll find the perfect casual feel of an exclusive concert setting, as if our artists were performing just for you!
For the past twenty-nine years, the Harrison Festival Society has presented a lively Season of Performing Arts between September and May. That's right. A whole season of stunning shows and unforgettable performances in the Society's principle venue: The Harrison Memorial Hall!
The Season consists of eight to ten shows featuring local, national and international performers bringing their special gifts and talents to this small lakeside community. That's what so different from all the other musical Fests – Small hometown feel, Big Time Music. And you won't have to fight crowds, get trampled, or sit in the nosebleed section. A Win-win!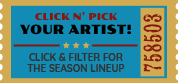 Season Flex Passes
Season Flex passes cost $125 + GST and you get a choice
of 5 tickets to any of our season shows.
You can use all 5 tickets on 1 show, or you can use 1 ticket for 5 different shows. It's up to you! Flex passes are non-refundable. Each time a ticket is redeemed, a stamped show ticket is given. That stamped ticket is worth 1 free drink at the bar during the show. Must be 19+ for alcoholic drinks.
To purchase your Flex Pass today, please call our office at 604.796.3664 (hours: Mon-Friday, 9am-4pm)

Full Season Passes
Season passes (available in 2017) will cost $175 + tax.
You get 8 tickets for the price of 7.
Season passes are non-refundable and non-exchangeable.