Well, here we are at the beginning of September and I am still buzzing from the festival! Even after a post-festival respite in the Okanagan, followed by the decompression of some lazy summer Sundays, I can feel it : the people, the music, the constantly buzzing phone, the brain that never sleeps. On the one hand, the festival seems to be over before you know it; on the other hand, its energy stays with you for a long time.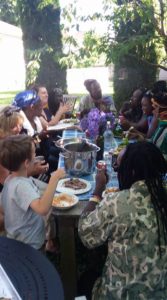 Festivals are planned out meticulously, but the most memorable things that happen are usually unexpected. After Haitian band Chouk Bwa Libete's final festival performance, their road manager told us they were looking for a kitchen to cook in. I invited them to my place. Our volunteer coordinator Marian kindly ran out to pick up some chicken and beans, and what followed was a magical afternoon with the band hanging out with my family, as they enjoyed speaking French with my wife and in-laws, and we all shared in delicious Haitian food together.
One unpredictable element every year is the reaction of the audience to bands they had never seen before. It is a delight to see the excitement when the crowd really feels they have made a discovery. One example was the Friday evening beach stage act, Hillsburn, from Nova Scotia. I knew they were a compelling band with a broad appeal, gut-level harmonies, and heart-on-the-sleeve songs, but the number of people coming up to me to request a re-booking was still a sweet surprise. There were actually several discoveries this year (at least for Harrison) that elicited a strong response, which was satisfying. Gypsy Kumbia Orchestra, Beny Esguerra and New Tradition, Ilam, Boyd Benjamin and Kevin Barr, The Small Glories and others.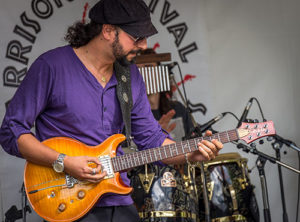 It is also wonderful to see when acts fall in love with this place, and with this community. Senegalese-Montrealer Ilam was a case in point. His manager said to me "we love this community, and the feeling of this festival – please don't change". That touched me a lot. The band really appreciated playing, and you could feel it in the performance, and in the reaction of the audience – a mutual love affair!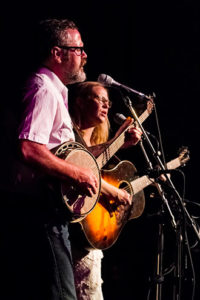 The unexpected can infuse a performance with extra meaning. To avoid wildfires, Pharis and Jason Romero, who just dealt with a house fire last year, had to travel through back roads to get here from their Horsefly home, heading north through Prince George rather than straight south through Williams Lake and Cache Creek. They were very, very happy to arrive here, two little kids and child-minder in tow.
The wildfires had an unexpectedly negative effect on our numbers the first weekend, although by no means disastrous. Press reports of the "Harrison Hot Springs Fire" (when the actual fire was 30 kms away with the wind in the other direction) led to numerous inquiries as to whether the festival was still on, or if the fire was close. As it turned out, the skies were mostly clear for most of the festival, with a few light raindrops here and there, and a breeze came in off the lake most days – all in all quite beautiful weather for the festival – something also very difficult to predict….
Andy Hillhouse
Artistic Director – Harrison Festival Society