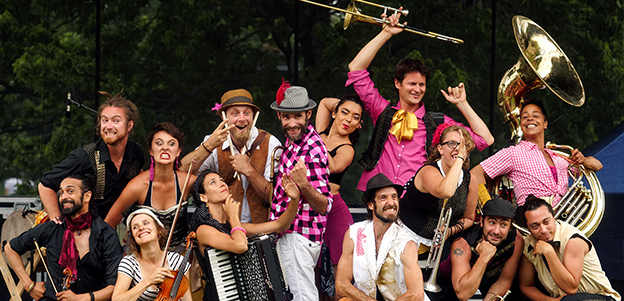 Gypsy Kumbia Orchestra
Canadian / Montreal, QUE
Date: Saturday, July 15 at 8:30pm 2017
Location: Memorial Hall
Tickets:
Adult $28.00 ($25 till June 23)
Student/Senior $25.00 ($23 till June 23)
Montreal's Gypsy Kumbia Orchestra is an explosion of music and dance, circus and imagination. The band is a creative chaos that fuses Afro-Colombian percussion with the brass and violin melodies of the Roma peoples of Eastern Europe. Created In 2012 by GIROVAGO productions, the band has already performed over 140 shows, including many festivals across Canada, Colombia, France, Austria, Chec Republic. GKO was voted Montréal's best world music group in 2015 (CAMUZ survey), and earned a 2016 JUNO and ADISQ Nominations for their first album, Revuelta Danza Party. With an ever growing following, the group has arrived as one of Canada's leading new big bands.
Tickets for this show are almost sold out and we have decided to suspend online sales to prevent overselling. However, there are tickets still available if you visit the Ranger Station Art Gallery or call our office at 604.796.3664 before 5pm. Some may be available at the door until we are sold out.
We also recommend that you come early to find the seat you like! See you tonight!